How Cash Registers and Drawers Benefit Retail Stores
When you think of retail stores, one of the first things that one can think of is the serpentine queue at the checkout counter with the counter staff billing shoppers. With dozens of shoppers to manage, each counter tries to process billing as fast as they can with absolute efficiency. This is where a cash management system plays an important role. Whether it is a Point Of Sale (POS) terminal or an electronic cash register and drawer, having a tool to process sales is essential for a store. Today, we will be talking about cash registers and cash drawers and look at the benefits they offer to retail stores.  
What are cash register and cash drawers? 
A cash register is a device that helps calculate the bill amount at the point of sale. It is also known as a till or an automated money handling system. Usually, cash registers are attached to cash drawers for storing money and other valuables. Hence, cash registers and cash drawers complement each other.  
The first-ever cash register was invented in 1879 and patented in 1883 by James Ritty. This was followed by Charles F. Kettering designing a cash register with an electric motor in 1906. The cash register went through a lot of changes over years and evolved with technological advancements.  
The modern electronic cash register typically has a display, keypad, cash drawer, and in-built thermal printer among other features for a hassle-free billing experience. Many e-cash registers also provide reports to help track sales efficiently.  
Cash Drawers are devices that are connected to an e-cash register or POS to help keep cash and coins in a segregated manner as opposed to dumping them into a single drawer. Cash drawers help improve efficiency and save the time of the counter staff. Usually, cash drawers have multiple slots for notes and coins.  
Benefits of cash registers and drawers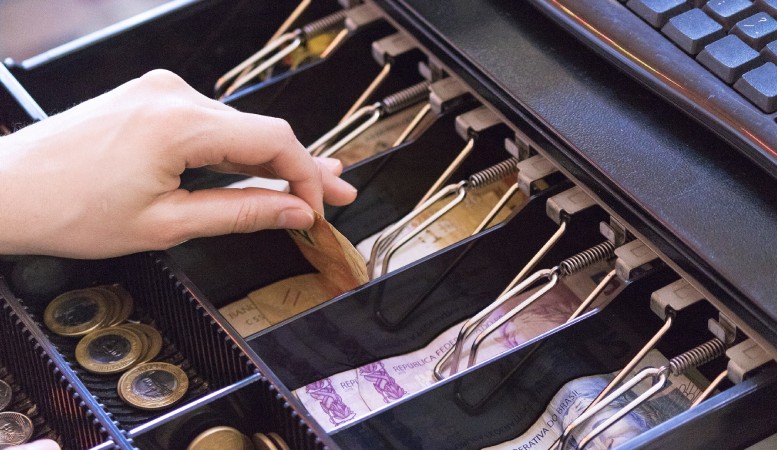 Here are some benefits offered by cash registers: 
Affordable: Small and medium-sized business owners have to think about costs while setting up shop. Electronic cash registers are highly affordable and offer all the basic features required to manage sales with ease.

 

Easy to Install: An electronic cash register does not have any installation hassles. You can get started in no time.

 

Fast printing of receipts: Most e-cash registers have an in-built thermal printer that offers quick printing of receipts to save time and process sales quicker.

 

Light-weight: Typically, an electronic cash register does not weigh a lot. It is around two kilograms that makes it compact and easy to move. 

 

Low servicing costs: Electronic cash registers have low servicing costs compared to POS terminals. This is beneficial to small businesses as it helps reduce recurring costs.

 

Barcode scanning: Most modern e-cash registers have an option to connect a barcode scanner for faster processing of sales. This also helps reduce errors due to manual entry of items.

 

Reports: You can print a range of reports like the Price Look-Up or PLU report, Department report, Clerk report, Term report, Stock Report, Return Report, Cash-in drawer report, Z-sales report, Commission report, Bill-wise summary report, Monthly report, Tax report, etc.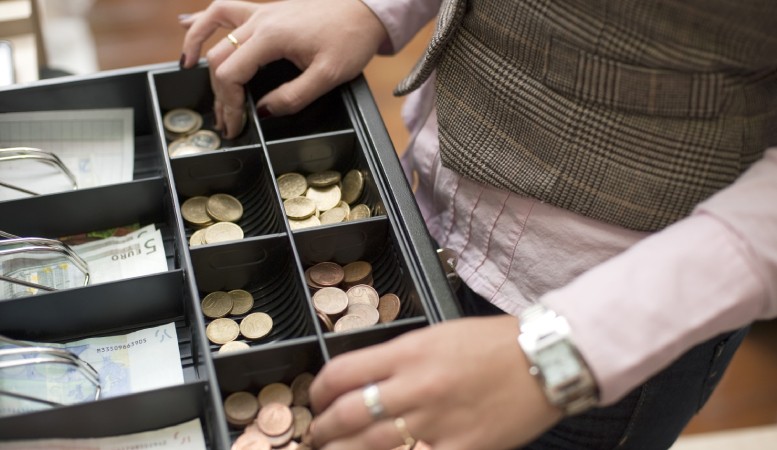 The benefits offered by Cash Drawers to stores are as follows: 
1. Cash Management 
Usually, stores receive a lot of cash from shoppers. They also need to tender the exact change to them in return. A Cash Drawer keeps money organized and helps the counter staff manage cash transactions efficiently. Also, most cash drawers are integrated with the billing system allowing the supervisor to clear them if they reach maximum capacity. 
2. Security 
If you keep cash in a regular drawer, there is no way of knowing the amount present in it. Hence, there is a possibility of fraud or theft. With a cash drawer, the opening and closing are controlled by the system. Hence, only employees authorized to operate it can open it. Further, cash drawers are made using thick-gauge rolled steel making it impossible to break into with ease.  
3. Cash reconciliation 
When you handle cash at the counter, one of the biggest challenges is to reconcile it at the end of the day. With notes and coins segregated into separate channels, reconciliation is easy and does not take long.  
A good point of sale system should allow the counter staff to bill the shopper quickly and with high levels of accuracy. With an e-cash register, you can ensure that the bills are generated quickly and accurately. Also, the cash drawer ensures that if the shopper is paying in cash, then the amount received and returned is exact without any calculation errors.  
Coming up 
As you can see, cash registers and drawers offer a range of benefits to store owners. These are highly affordable, easy to install, light-weight, and have low servicing costs. Electronic cash registers and drawers ensure optimum efficiency and accuracy of operations making then a good choice for a store owner.  
For any queries, you can write to us at sales-support@tvs-e.in or you may visit www.tvs-e.in/product-enquiry/